Meet Our New Malone Branch Team
The full-service branch in Malone is North Country Savings Bank's newest and most modern facility with Interactive Teller Machines (ITMs) that let you take care of just about all of your banking needs, 24/7. The branch also has tablets that customers can use to open up a new account while seated at one of their lobby café tables. Yet, all you need to do is peer through the sparkling clean glass walls of the branch to find some familiar faces in the community at the ready to greet and assist you in person. Some of the core staff Malone residents may even recognize as neighbors.
Meet the dynamic trio that makes up the Malone team:
Karissa Oliver, Branch Manager & Loan Originator
NMLS #2420788
Branch Manager Karissa Oliver may be new to North Country Savings Bank, but she's a familiar face to many who live in the Malone area having grown up in the area and worked 10 years as a manager at the local Walmart store. Oliver is your go-to for information about taking out loans, whether it's for a mortgage, a vehicle or home improvements.
Oliver is excited to serve the Malone community with NCSB's newest full-service branch.
"Our bank doesn't just provide high-tech, self-serve options like online account opening, mobile banking and our ITMs," says Oliver. "We still have the friendly, hometown approach for our customers that prefer to work one on one with a banker inside our branch." Building great relationships with our customers is our top priority and we strive to be the bank of choice within the area."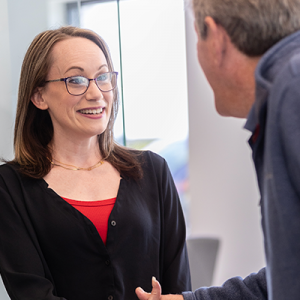 Ashley Conway, Relationship Banker
Ashley Conway brings a depth of experience to NCSB's Malone branch, having worked in banking since 2005. She has worked in retail banking and held bank positions on the back-office side of bank operations. A graduate of Brushton-Moira Central School, she is especially excited about the new technology available to customers at the new branch, including the ITMs.
"Whether we're open or not, our customers can do anything you can do with a teller by using an ITM, including making a loan payment," says Conway.
Allyson Reome, Relationship Banker
NMLS# 2494404
Allyson Reome grew up in Malone, where she graduated from Franklin Academy. At age 21, she is new to working in the bank industry and excited about the new, full-service offerings and ITMs at the Malone branch. As a Relationship Banker and a Teller, she is equally glad to assist customers whether they come into the branch or pull up at the drive-through window. She is excited about the new customer base the branch is building. "We would love to see you come in and see what we have to offer," says Reome.
Stop by the new Malone branch at 217 West Main Street. Open a new account and learn more about NCSB's products and services. Find branch operating hours here.
Posted Date:
14 Jul 2023
More like this